Swimsuit Back Styles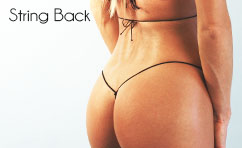 String Back
String Back bikinis and one-pieces provide the least amount to no coverage. Usually made of the same material as the hip straps, they form a "Y" shape where the sides join in back.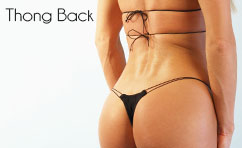 Thong Back
A small amount of fabric forms a thick "T" shape in back of a Thong Back swimsuit, providing little to no real coverage. The straps on hips vary according to the swimwear style.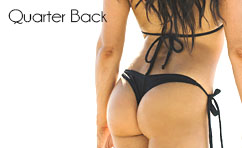 Quarter Back
The Quarter Back was designed to offer a sleek cheeky look with less coverage than the Half Back while maintaining a hint of the lines of a traditional bikini. Riding low on the hips with a flirty, more revealing cut, this is our sexiest backstyle before moving into a Thong.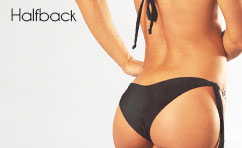 Halfback
Somewhat conservative coverage while somewhat revealing...in between...while ultra-flattering and hugging, Colleen's Signature Halfback has been a favorite back style of swimwear fashion insiders.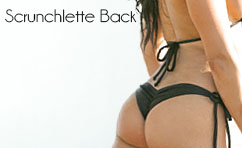 Scrunchlette Back
Our most popular style, Colleen Kelly's Scrunchlette Back offers all the sexy "cheekiness" of a thong with the look of a form-fitting scrunch back. The shape is a higher arcing cut with a scrunched shirring effect that gives this backstyle a very flattering shape that accentuates your curves.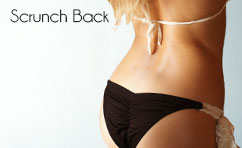 Scrunch Back
The Ruched / Scrunch Back offers fairly conservative coverage. The shape is a slender cut, like the Brazil Back, with a scrunched shirring effect which helps give it a flattering shape.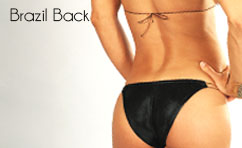 Brazil Back
Brazil Back suits offer fairly conservative coverage. Our design is a slender cut, with still enough fabric to keep the bottoms in place.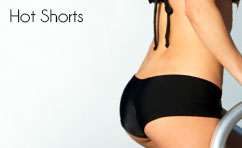 Hot Shorts
Hot Shorts provide the most coverage of all our back styles. The design is boy cut and slightly revealing in back.
The photos above are general examples of the various backstyles we offer. Different styles of swimsuit designs may vary slightly.